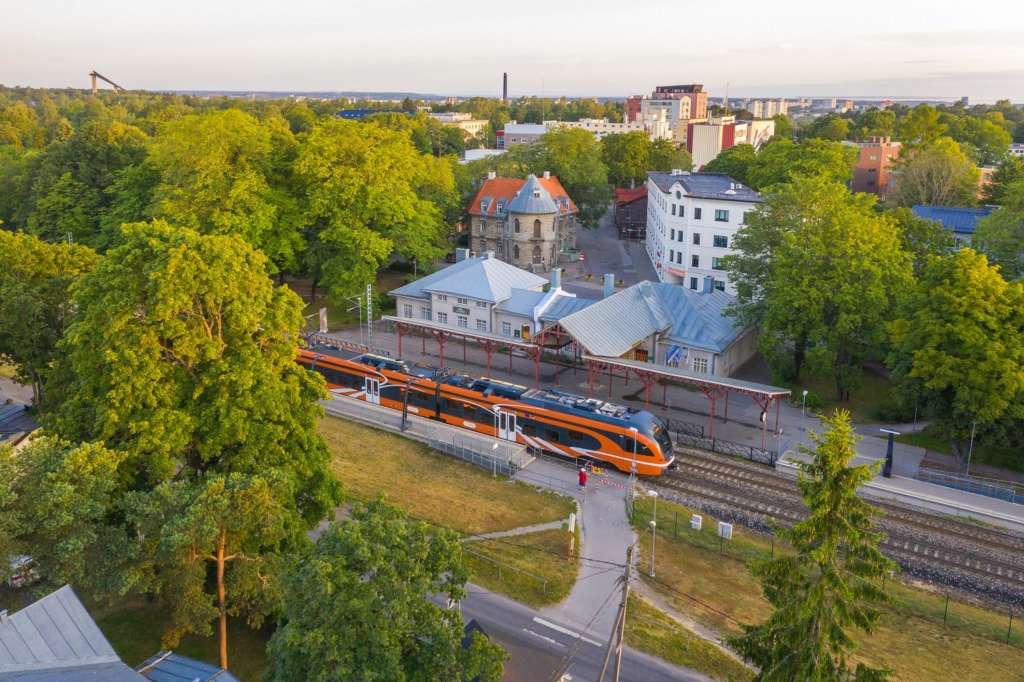 25.02.2021
The development of the centre of Nõmme has gained new momentum, Salve and Jannseni Street show great potential as well
Nõmme is a dignified and well-established area that Tallinn's residents have loved throughout the ages. A peaceful and safe neighbourhood, green pines and jogging trails, and good connections to the city centre have made the Nõmme city district an elite area where it is not so easy to find a place to live and once here, people find it hard to leave.
Although there are few vacant land plots in the district and the centre of Nõmme has not been renewed for a long time, 2021 will bring new exciting projects. At least five new apartment buildings will be constructed in the centre of Nõmme in the coming years, construction has already started for the first one and its completion is forecasted to be in the beginning of this autumn. In addition to new residential spaces, apartment buildings will also have business premises, where established companies can offer new amenities to the townspeople. 
As according to the general plan for the Nõmme district, the centre is a mixed-use development area, it is likely that new residential, cultural, commercial and small-scale production areas will be built there in the future. 
We also asked Grete Šillis, the city district elder of Nõmme, what measures will be taken in the near future to improve the living environment of the region and where the areas with the greatest development potential in Nõmme are located. 


What projects are planned to be implemented in the near future to improve Nõmme's infrastructure?


The sports building for Nõmme High School (Nõmme gümnaasium) at Põllu 68 is under construction and will be completed this year. Because of that, students of Nõmme schools and local residents can have much better training conditions. Therefore, road traffic in the Pargi tänav area will become slightly higher during the evening.


In addition, the Rabarüblik kindergarten at Raba 10 is currently being reconstructed. As a result of the construction works, rooms will be added for two new kindergarten groups and Rabarüblik will become a kindergarten with a total of 10 groups.


St John's School (MTÜ Püha Johannese Kool) will establish a new basic school with a kindergarten at Kivimäe 25. As a result, road traffic on Kivimäe Street will increase. Thanks to the new school, children in the area can select an educational institution with an alternative approach in addition to Tallinn Kivimäe Elementary School (Kivimäe põhikool). The basic school and kindergarten will be completed in 2022.


The coming years will bring about reconstruction of the basic school building of Nõmme High School (Raudtee 55), Nõmme Elementary School (Raudtee 68), Tallinn Kivimäe Elementary School and Männiku and Männimudila kindergartens. Although it is necessary to stay temporarily in other buildings during the construction work, and this might bring inconveniences, the improved study conditions will be worth it. 


From larger roads, Kivimäe Street will be reconstructed this year, renovation will be carried out on dozens of other streets as well. Phase II of the hiking trails of the Nõmme-Mustamäe landscape protection area will be completed and the boardwalk of Pääsküla bog will be reconstructed. Kerese, Õie, Raudtee Streets and Kõrge-Männi section on the Pärnu Road are in the design phase and waiting for construction.


Where do you expect the emergence of new businesses and jobs?


Potential development areas are the grain elevator area near Salve Street and the area of Tallinn Music High School (Tallinna Muusikakool) located at the beginning of the street of J.V. Jannseni. 


In general, there is little vacant land or unused buildings in Nõmme to create possible new institutions and jobs. The existing areas with job opportunities have been developed decades ago and a large part of Nõmme's residential buildings are located far from them. However, this distance is compensated by very good train and bus connections.


In which regions do you anticipate population growth in the near future?


In recent years, the number of Nõmme's inhabitants has decreased because no new plots are coming up and concentration is taking place on the existing premises. For example, a two-apartment house will again be a private house. Nevertheless, more and more residents are coming to the centre of Nõmme (Pärnu Road 328), Kalda Street, Kivimäe Street area and Teelise Street.